Hi all,
AritMazeTic (available here
https://www.crazygames.com/game/aritmazetic
) is a web-browser game I developed using Unity and published only CrazyGame so far. The game may end up on Android/iOS at some point depending on the time I have and the feedbacks it gets.
As the name indicates, the game is about arithmetic and mazes. You move your square from cell to cell changing you score depending on the operation shown on the cell (see gif below). You may roam freely or in a procedurally generated maze. There are several game modes available (like best score after 100 moves, reach 50000 points as fast as possible or just infinite play without objectives...) so you can play 5 minutes or 5 hours.
I'm interested in any kind feedback. It can be about the game difficulty, its graphics, its objectives (are they clear enough? would you think of better achievements ?).
I hope you'll have fun playing. Thanks in advance to those who will answer.
NDGD
Gameplay: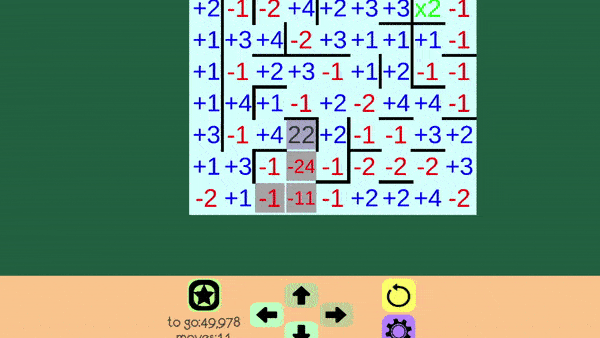 Main menu: